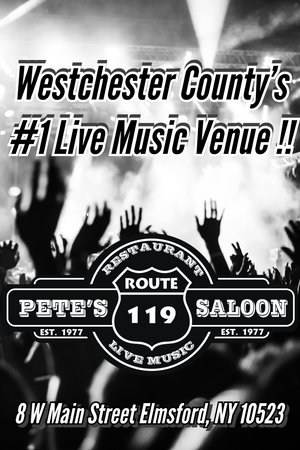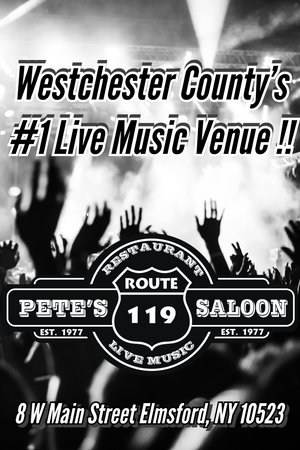 Free Parking!!!!
Pete's is located off the corner of Routes 119 (Main St) and 9A in Elmsford, convenient to all area highways, and open seven days with daily lunch and dinner specials. We've also got you covered on parking! Pete's offers free parking 24/7 365 days a year in our lot across the street! Our parking lot is located diagonally across the street from us at 3 & 5 West Main Street. The first 20 spots on the RIGHT are for Friends of Pete's! .
Order Online
Deliciousness At The Click Of A Button !
About Us
Pete's Saloon & Restaurant was born in 1977, and has grown from "The Saloon", the ambitious dream of former owner Peter Riekstins, to one of the most respected and loved restaurants and nightspots in the Westchester & Rockland area. Over 43 years, Peter Riekstins cultivated generations with his view on restaurants & of course live music. Pete was so good at what he did, he was able to do something most restaurant owners don't get the opportunity to do-Pete got to choose his retirement date on his own !On September 8th, 2020 Pete's officially changed hands for the first time in since 1977. "Same book, new chapter." Is Owner Anthony Bartolotta's motto. With an updated back bar, some fresh paint & a new sound system, Pete's at its core will remain just with some modernization. From private parties, to sporting events and of course Live Music-Pete's will continue to be a staple in the community.
OUR MENU
See what makes Pete's stand out from the rest! 
Look at our Lunch and Dinner Menu
View Menu
PRIVATE PARTIES 
Pete's offers facilities for up to 100 Guests. Our experienced staff will be happy to customize an event-whether for business or pleasure-that's tailored to your needs!
Contact Us